THE COMPREHENSIVE GUIDE TO NSP - 4th EDITION
New & Expanded Fourth Edition!

L

EARN ABOUT ALL NATURE'S SUNSHINE PRODUCTS & HERBS
The essential guide to Nature's Sunshine Products - Only $39.98
New in this edition:
The best products for conditions are highlighted, making it easy for beginners to decide what products to try first.
The ABC+D charts and associated product lists have all been updated. This includes making completely revised immune system and reproductive system charts that now conform to the biological terrain model of health.
The descriptions of what to do for many major health conditions have been greatly expanded to give readers a clearer idea how to deal with major issues like diabetes, heart disease, cancer, autoimmune disorders, weight loss and much more.
Conditions are now linked to major Activating, Building and Cleansing therapies, such as colon cleansing, enzyme supplementation, correcting a hiatal hernia and so forth, to guide readers to basic therapies that will correct underlying health problems that may be contributing to their ailments.
Conditions are now extensively cross-referenced with related conditions so that the reader can look up related health problems for more information.
The Comprehensive Guide to Nature's Sunshine Products is an essential tool for maximizing the benefits of Nature's Sunshine Products complete line of high quality herbs and nutritional supplements. The Fourth Edition includes detailed information on all 693 of Nature's Sunshine Products available in the United States and Canada. Each entry covers the properties, body system's affected, historical uses, directions for use, and warnings and contraindications for each of these products. But that's just the beginning.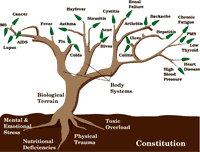 The Comprehensive Guide to Nature's Sunshine Products provides a therapeutic index to over 500 health problems, providing information on causes, natural therapies and NSP products people have used to help their body recover from these conditions. Another section provides a list of over 108 body systems, organs and parts with lists of remedies that affect them. The final section provides definitions, indications and contraindications for over 213 therapeutic properties with lists of NSP products that have those properties.
The introduction to the
The Comprehensive Guide to Nature's Sunshine Products
provides an overview of what natural healing is all about. Using a model called the Disease Tree (shown on the right), it teaches people how to look for root causes of their health problems rather than just treat the effects.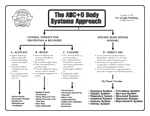 It also includes the charts and instructions for the ABC+D Approach to natural healing, a simplified method of helping a person put together an effective supplement program. You can see a page from The Comprehensive Guide to Nature's Sunshine Products which provides an overview of this system by clicking here.
The ABC's are Activate, Build and Cleanse, the basic things a person must do to recover from any illness. The +D refers to the idea of giving Direct Aid to weakened body systems and restoring balance to the body's internal environment or biological terrain.
Using the Body System's Questionnaire, found in the The Comprehensive Guide to Nature's Sunshine Products and available from this website for free, a person can figure out which of the 11 body systems are in the most need of nutritional support.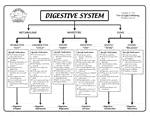 There is a chart for each system, which allows a person to select appropriate remedies based on the type of imbalance found in that system. You can see a sample of the chart for the Digestive System.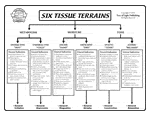 The Body System's charts are based on a model of six imbalances in biological terrain, developed by Steven's friend and fellow herbalist Matthew Wood. The chart of the six tissue terrains from the Comprehensive Guide can be seen by clicking here.
Compiled and edited by Steven Horne, Registered Herbalist, who has been providing NSP Managers and Distributors with quality educational materials for 20 years, The Comprehensive Guide to Nature's Sunshine Products is a simply a "must-have" reference for everyone who uses or sells Nature's Sunshine Products. Even those not affiliated with NSP will find the reference useful in learning how to choose herbs and supplements to support the natural healing power of their bodies.
But don't take our word for it. Here's what successful NSP Managers have to say about The Comprehensive Guide to Nature's Sunshine Products.
| | | |
| --- | --- | --- |
| | | I'm Beverly Claussen. I'm at Manager lever with Nature's Sunshine products and moving up. I've been with Nature's Sunshine for close to 10 years and have complete faith in the products. So, when I finally decided to do the 'business', I naturally looked for tools to assist me and validate NSP Products. One of the tools I've found, the Comprehensive Guide, has become one of my bibles. It allows me to 'show' people ways of improving their health in a nice simple, easy but thorough reference book, as well as business builders who are not yet confident on how they'll be able to help others, as well as learn themselves. I even have 2 Comprehensive Guides - one for the office and one for home. |
My name is Jackie Stevens, I am a Nature's Sunshine Manager. I use the Comprehensive Guide for my family needs as well as my client's. When I have a client call or come in, my guide is always handy to look up issues or details about NSP products. It also explains the "roots" of my consultation techniques. I recommend one to all my clients - it is a wonderful resource.
I'm Patricia Parker. I'm an Area Manager with NSP and have been with NSP for 17 years. The Comprehensive Guide has been invaluable in two ways: firstly, for guiding my distributors in determining how to help themselves, their families and their friends. They are so excited about the Disease Tree Model and it helps them to understand how to get to the root of their health problems. Secondly, it's invaluable as a reference book in my retail store. I find customers looking in there for solutions to their particular health problems when I'm not available. They often purchase it for themselves, too! I wouldn't be without it.
My name is Donna Randolph and I am a manager with NSP and have a very busy clinic. My associate and I call the Comprehensive Guide our NSP "Bible." When a client has a special problem I look in the back under conditions and then usually muscle test two or three products to find one that works best. I can't see how anyone using and selling NSP products could be without this book. I have one at home and one in my clinic and several of my downline have purchased a copy. My goal is to have at least 50% of my downline with a guide because they tend to order on a regular basis when they know what the products will do for their health.
If you'd like to share your comments on The Comprehensive Guide to Nature's Sunshine Products, click here.
With all this valuable information to the new The Comprehensive Guide to Nature's Sunshine Products the price is still only $39.95.
Discounts are available for volume purchases:
Buy 1 for $39.95
Buy 2-5 for $35.99 each
Buy 6-11 for $31.99 each
Buy 12 or more for $23.99 each.
(Plus Shipping/Handling)
BUY THE COMPREHENSIVE GUIDE TO NATURE'S SUNSHINE 4TH ADDITION